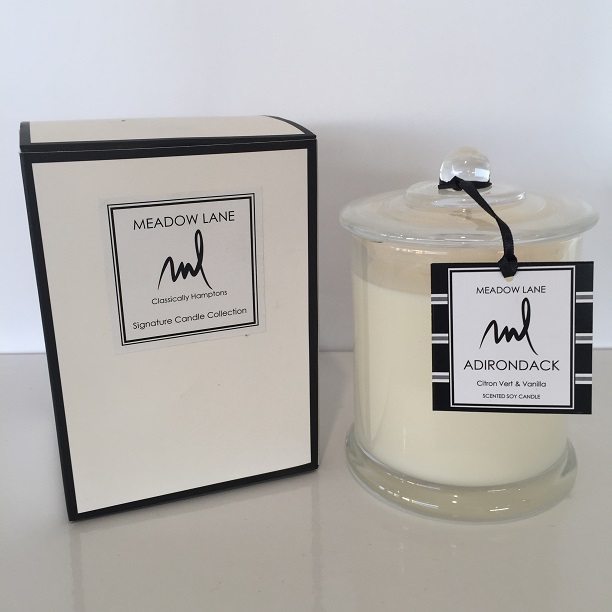 Meadow Lane has launched a new line of candles that capture the true essence of the Hamptons.  All fragrances are phthalate-free and tell a story about the places and people of the glamorous seaside town.   Enjoy the sensory delight from our candle range which will allow you to have a little slice of the Hamptons in your home.
Drawing inspiration from the elite lifestyle of the Hamptons our beautiful hand poured soy candles have been created by Meadow Lane to share our love and passion for one of the most beautiful places in the world.
Our candles are made using 100% natural clean burning SOY with carefully selected fragrances that reflect the romance and charm of the Hamptons.
---
The Adirondack fragrance captures the unique sense of relaxed yet sophisticated outdoor living as defined by the classic Adirondack Chair.  A popular addition among many majestic seaside mansions this iconic chair is a symbol of certain way of life that we all aspire to.  Create this lifestyle with our Adirondack candle and enjoy the infusion of vanilla scented luxury with caramel, brown sugar and the tart citrus notes of lemon and grapefruit seed. Shop Now
---
The Southampton fragrance captures the enviable lifestyle of the Hamptons. Fabulous restaurants, a magnificent shoreline, exclusive boutiques, private hedges and picturesque gardens define this quaint yet sophisticated town.  Create this lifestyle for yourself with our Southampton candle a dazzling, complex bouquet of lotus flower, lilies, jasmine petals, pink peonies, rose de mai, tuberose, and orange blossom. Clean white musk, ambrette, and lots of sandalwood balance the florals and provide a sultry, soft, long-lasting finish. Shop Now
---
The East Hampton Candles captures the beauty and charm of the perfect summer getaway. Sprawling mansions flanked by blooming Hydrangea and towering elm trees, define this iconic long Island destination.  Create this lifestyle for yourself with our East Hampton candle and enjoy the subtle and sweet aroma of the Hydrangea with just hint a hint of spice. Shop Now
---
The Montuak fragrance captures the energetic nature and charm of the most eastern point of the Long Island.  Referred to by locals as The End, Montauk is defined by miles of hiking trails, sand dunes, sweeping views of the Atlantic Ocean, and the timeless elegance of Montauk Yacht Club.  Create this lifestyle for yourself with our Montuak candle and enjoy the scent of exotic and fruity with sweet dew fruit and red tea top notes blended with African geranium and lily of the valley. Shop Now
---
The Sag Harbor fragrance captures the essence of this down to earth yet culturally rich seaside haven.  Boutiques and restaurants ooze old world charm and the atmosphere is vibrant.  Majestic sailing boats sit prominently on the bay and their American flags snap in a defiant display or patriotism.  Blue skies and the crisp ocean air create a mood of relaxation and happiness when experiencing this gorgeous enclave. Create this lifestyle for yourself with our Sag Harbor candle and enjoy the coastal combination of the fresh ocean air with an infusion of fir needle, sea spray, jasmine, rosewood driftwood and amber. Shop Now
---
The Wainscott fragrance captures the romance and charm of this east end hamlet. A picturesque town with exquisite homes dotted amongst a diverse landscape of corn fields, lakes and ocean fronts. Create this lifestyle for yourself with our Wainscott candle and enjoy a unique and complex blend of rustic amber and French lavender with added notes of tonka bean, vanilla and clary sage. Shop Now
---