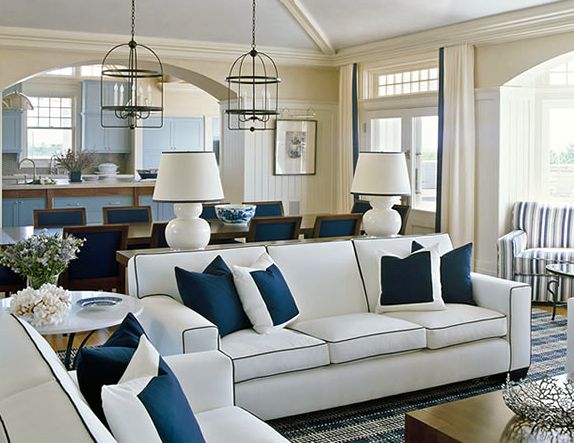 ---
Wainscoting, window seats, coffered ceilings and lots of white paint and paneling is what differentiates the Hamptons style home from other styles and contributes to its timeless appeal.  To complement these beautiful design features you would be wise to select soft furnishings that stand the test of time and hold the same sense of style and quality.  It's important for these items to be able to blend and make a statement at the same time whether your style is coastal chic or relaxed sophistication.  Cushions also allow you to add another layer to your decor theme and present an opportunity to introduce contrasting colours and patterns. 

Choosing the right cushion for your home and then being able to source it can be overwhelming. Typically, the Hamptons style is dominated by neutral colours, soft palates and the classic black and white striped pattern.  Each of these styles work beautifully but  if you're after something a little more contemporary, bright fabrics and bold patterns look amazing when paired up with modern classic furniture.  

In addition to style, another equally important element to consider is the durability of the fabric and the quality of foam inserts.  Not all cushion fabrics are created equal and we strongly recommend selecting fabrics such as Sunbrella and Warwick due to their resistance to mold and fading.  Durable fabrics like these work well for indoor and outdoor areas and are perfect for complementing any of our beautiful outdoor Polywood furniture.

At Meadow Lane we have partnered with The Cushion Factory to give our clients the opportunity to customise and create beautiful cushions unique to individual tastes and style. Simply go to our online store and use our unique partner website link.  Whether it be for a daybed, window beach seat or throw cushion  you'll  be able to select fabric and materials to suit your needs.
In the meantime, please enjoy our collection of images below for some cushion decor inspiration.  Be sure to visit our 
online store
 to help you create your own Hamptons style home.